That beautiful piece of Bitossi pottery is in your sightline. You cannot wait to get your hands on it. It is the piece you have been waiting years for and it is just what you need to spice up your collection. These pieces were and are not mass produced so you must have it. You just cannot resist the iconic designs of Aldo Londi, Bitossi himself, Ettore Sottsass, and so many more.
STOP.
How can you be sure it is the real thing? After all, these pieces are not cheap! Manufacturers of original Italian pottery have been copied for decades. It can be easy to get sucked into the excitement of finding the exact piece you have been craving then convincing yourself it is the real thing. Mistakes on true identity happen often no matter how skilled the identifier is. Luckily there are 3 easy ways to spot a fake even if you have an untrained eye.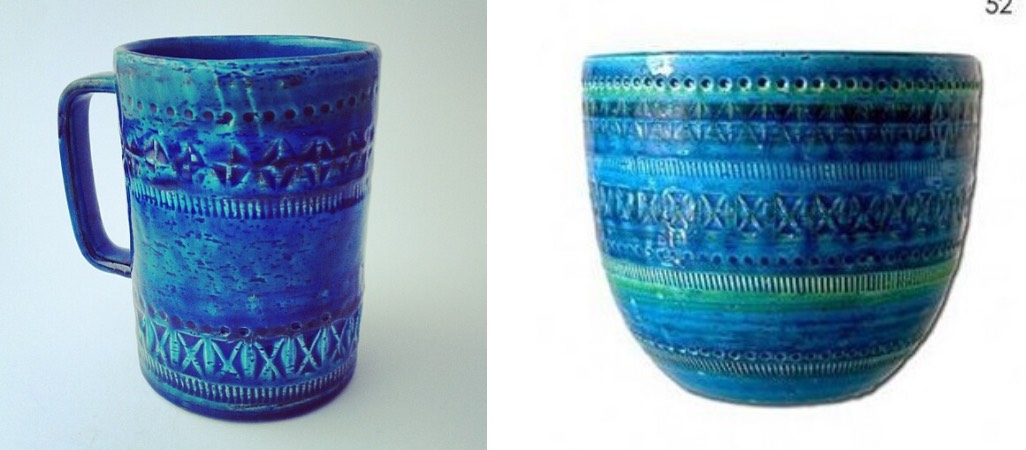 1. Flip It Over – Inspect the Marking
The makers of Bitossi ceramics mark their pieces in several different ways. Do not be discouraged if all of your true Bitossi pieces have a written marking and the one you desire has a stamp! This simply indicates the age and who it was made for. The pieces that are written on are typically from the 1950's and are an original Aldo Londi design. You should be proud to own one of these. If the makers mark is stamped, it simply means that that particular piece of beautiful Bitossi either did not pass inspection and was sold as a slightly defaulted piece, or that it was made slightly later in time (1960-1970 perhaps by another designer) and was sold to a second hand merchant who did not want the designers name on it. The marks to be aware of are ones that exclude the words and letters "Italy", "B", "Flavia", and "Bitossi" in combination with a SMOOTH and FLAT unglazed bottom. The wrong combination will result in the dreaded ownership of a piece of FAKE Bitossi.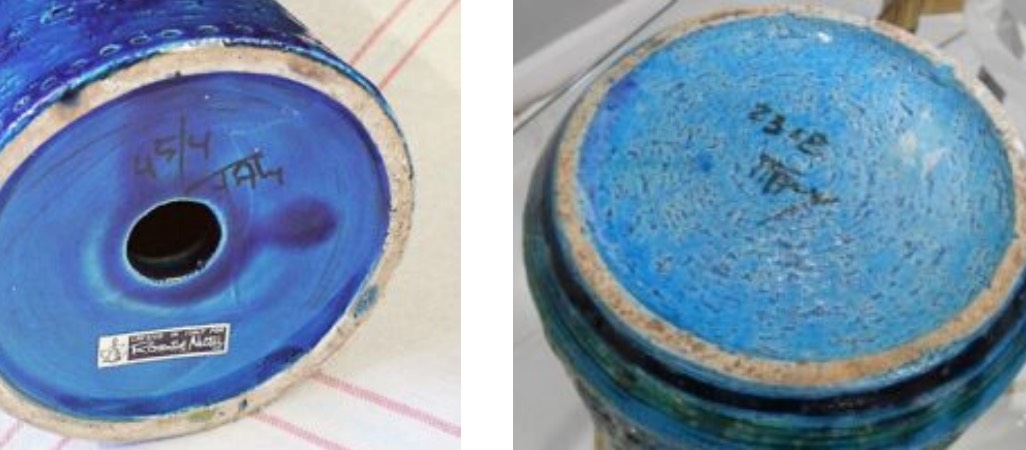 2. Keep It Up-Side-Down – Look at the Unglazed Portion
Now that you have the markings down, let us now take a look at the unglazed portion and see how this can affect the authenticity of your prized Italian pottery. The unglazed portion of authentic Bitossi pottery is rough and concave. No ifs ands or buts about it. If it is not rough, it is certainly fake. If it is flat, it is certainly fake. No matter what marking you see, it has to be ROUGH and CONCAVE. I cannot stress this enough. ROUGH. CONCAVE. Done. Bringing us to our last sign just so you can be 100 percent sure when showing off your collection.
3. The Glaze Itself – Do You Notice Visible Brush Strokes?
Logically, it would follow that an original piece touched and glazed by a real person should have signs of just that. After all, a print or lithograph does not have actual paint with brush strokes from the original artist. It was machine made. Anything man made should have signs of just that. Small imperfections, slightly different tones in various areas of the piece, and most importantly, streaks in the glaze or paint. This makes original Italian pottery that much more desirable. Each piece you own is slightly different from one another and this makes it that much more original and sought after.