**Updated Jan 2023**
Preparing to list and sell a home can quickly become overwhelming whether it is your own, the home of a loved one, or a client. If you aren't sure what to expect from an estate sale company during such a busy time, things can go south quickly and you can easily get taken advantage of. We share the top 5 red flags to look out for when hiring an estate sale company and how to avoid them below!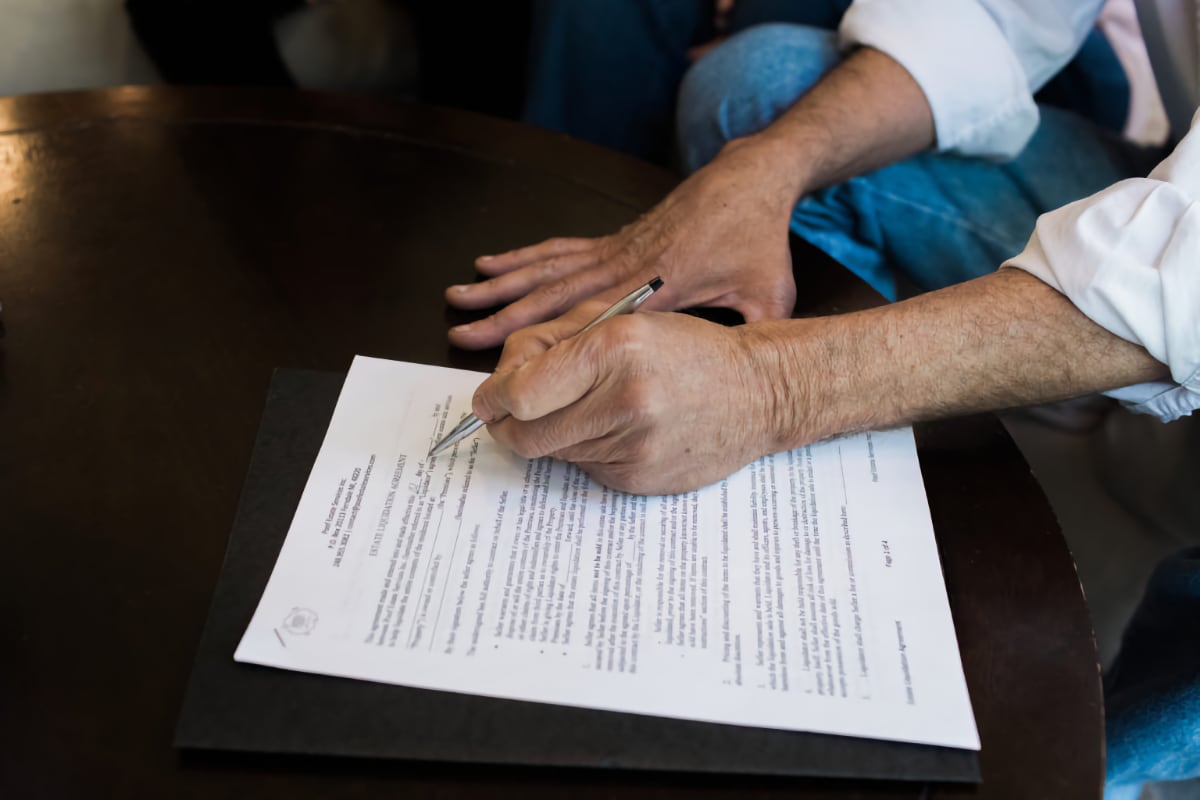 Red Flag #1 – Charging A Fixed Up-Front Cost For Cleanout Service
A scam to be aware of is when a company charges a fixed fee in their contract to remove items from your home that remain after the estate sale is over – also known as a Cleanout service. This can look like a clause in the contract stating  a pre-determined fee – lets say $2,500 no matter what remains in the home. This is an issue considering there is no way a company can pre-determine the cost of this service before knowing exactly what is left in your home after the sale is complete. With that being said, the charge for post-sale item removal should always be quoted at the end of your sale when the company knows exactly what is leftover and you should always be allowed to cancel the service after the sale.
How to Avoid: Ask how the company determines the cost for post-sale item removal during the consultation and whether or not you are locked into this service.
Red Flag #2 – Overestimating Your Sale Potential
When it comes to preparing for an estate sale, it can be tempting to ask a company to share how much they think your sale will make. You may find that most companies do not want to share as many factors can effect the performance of your sale such as competition in the area, condition and desirability of your items, weather, etc. With that being said, be leery of companies that throw around big values for items or claim your sale will produce thousands more than the other companies you interview. This is a common ploy to pique your interest and get you to sign the contract. For example, If two out of three companies claim your sale will hit within the $5,000 – $8,000 range and one in three claims your sale potential is $20,000, it is a sign they are inflating their abilities to receive a signed contract.
How to Avoid: Ask for proof of recent sold listings for items they claim to bring value. We also suggest getting quotes from multiple companies to gauge the true potential for your sale.
Red Flag #3 – Confusing Contract Clauses
On occasion you may come across estate sale companies with contracts that include confusing or liability dodging clauses. Keep an eye out for verbiage that clears the company of liability in the event that something happens to your home, that state you cannot enter the premises, or seem convoluted or confusing. Two clauses we often hear about that should be avoided are "Found Treasure" clauses – stating any money found in the home is added to the proceeds of the sale instead of returned to you and clauses that state once the sale is over, you no longer have access to the items in your home. Whether or not you are interested in seeing what is leftover in your home after the sale is over, it is important that the company is not keeping your items to sell for profit at another location later. They should allow you access once the sale is over and provide a donation slip if requested.
How to Avoid: Do not sign a contract on the spot. Instead, ask the company for a copy of their contract and take your time reviewing it. Once reviewed, get clarity from the company on any clauses you have interest in knowing more about.
Red Flag #4 – Illegitimate Businesses
While estate sale companies don't require licensing in all states, it is important that they are well practiced and registered with their state as an active business. Unfortunately, there are many estate sale companies that pop up for a single season and disappear the following year. Your sale will perform better and your home will be better protected with a company that is credible and operating regularly.
How to Avoid: Check with your State's Secretary office for the company incorporation.
Red Flag #5 – False Claims To Back Their Sales Pitch
During the interview process be aware of the claims the sales associate makes about the company. Does the company claim their sales sell out? Do they boast about their large following of customers? Do they claim to be knowledgable about pricing your items? Often with the estate sale industry, these boastful false claims can be a marketing ploy to ensure a company receives a signed contract from you. While this can be the case through words, we strongly suggest visiting one or more of their active estate sales before hiring. If you are out of state and cannot visit, we suggest seeing if a friend or relative within the state can visit for you.
How to Avoid: Ask them directly how they can back these claims. What proof to they have? We suggest doing as much research as possible on these claims before proceeding by checking reviews online and visiting their sales before hiring.