Did you know that estate sales are not only great for saving money, they are great for saving the environment too? Shopping estate sales can be considered a form of recycling as every item you buy is saved from dumpsters, landfills, and eventually ending up in bodies of water or on the ground. If you are on board with cleaning up the planet, keep shopping but change the location from big box stores to estate sales! There are many great items you can find to repurpose into something useful. Need some creative guidance? Here are some ideas.
Old Buttons
Have you ever considered using old buttons to make jewelry? If not, maybe we can change your mind! Every estate sale has at least one jar of buttons lying around, if not more. They range from modern to vintage and can be found in any color, shape, or pattern you can imagine. You can try collecting different ones to make a necklace or bracelet and if you have two that match, try making some earrings. Buttons could even be used to make art either for you or your kids.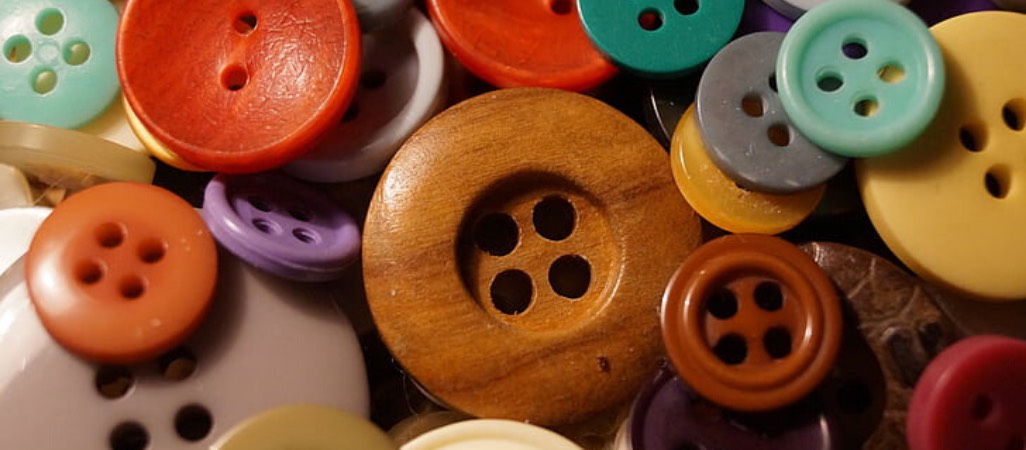 Peach/Milk Crates
Almost every home we come across has old milk crates or peach crates. They are great for storage and moving, but how can you use them in your home in a stylish way? Peach crates are a great way to store your vintage vinyl! They can offer a rustic feel to your home with little to no work. Just stack them up and put your records in. Milk crates often times can't fit records so they are a great way to store your blankets next to your sofa or can be turned into end tables so your guests have a place to set their drinks. They even make great file storage for your closet or can act as a way to prop up and display that new yoga mat you just found at your neighbors sale.
Teapots
Most homes have an old teapot that is stained, out of date, or just cannot be used anymore. Instead of ignoring it, buy it! Try turning it into a beautiful floral piece. Use fake or real flowers depending on your taste or even use it as a little herb planter on your window sill. These floral teapots pictured below would be great centerpieces at a baby or bridal shower or could make a thoughtful gift.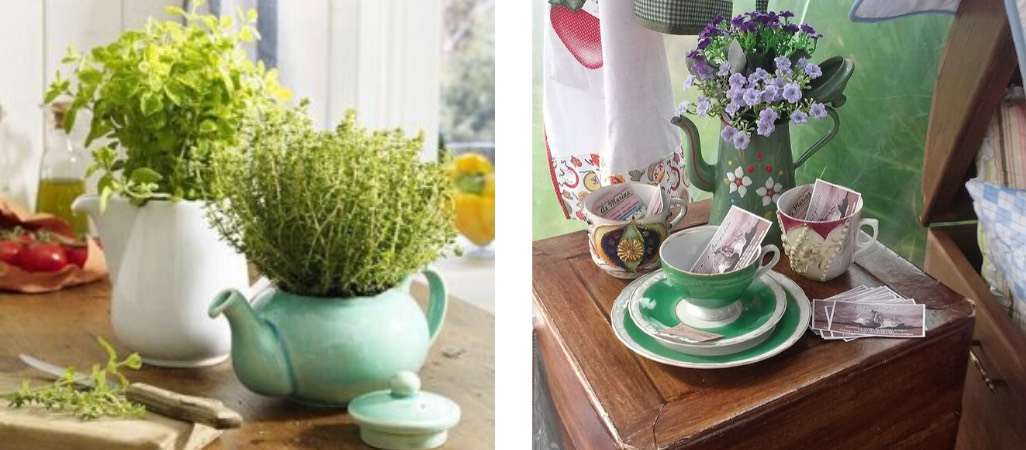 Candles
Instead of buying a new wine stopper for $9.99 at Bed Bath and Beyond, why not make your own for practically nothing? Try using an old candle. Old candles are in nearly every home and if you don't have any, one of the estate sales in your neighborhood will. Just get the stick of the candle warmed up and slowly insert it into the neck of the bottle. The warmed candle will take the shape of the bottle and act as a cork keeping your wine safe inside!
Ripped or Torn Linens/Blankets
Old blankets can become virtually anything. If you have a sewing machine and don't mind watching a quick YouTube tutorial, they can become a new pillow sham, a new duvet cover, drapes, a shower curtain, or even a piece of clothing. If you need something more simple, try cutting it up and making cleaning rags out of it, use it as a moving blanket, or even a beach blanket.
Old Luggage
Do you have a pet at home? Does your friend or relative have one? An old piece of luggage can make a cozy pet bed and is available at almost any estate sale on the planet. Try taking some cushion foam and cover it with some old fabric or use their favorite pillow or blanket. Simply place that into the bottom of the luggage, keep the lid flipped open so your pet can freely enter and exit. Try putting some treats in there or maybe their favorite toy and watch them enjoy it!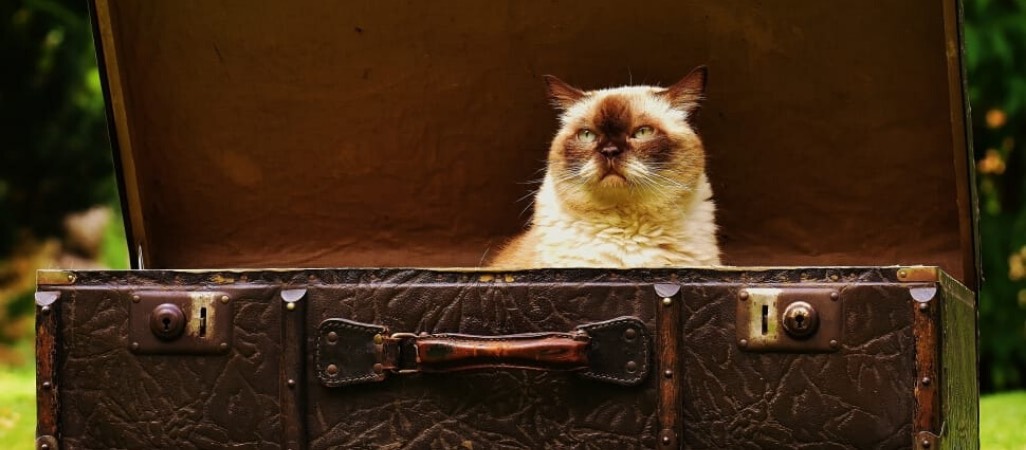 Tree Stumps/Driftwood
Many people collect drift wood from their excursions up north or visits to the beach. You've probably overlooked these pieces at many estate sales, however, these items make great accent pieces to every home and they can be turned into useful items you would never expect. Driftwood can be turned into a lamp. All you need is a lamp cord with an attached socket (you can find these in any other lamp that needs to be repurposed or on their own at nearly any sale) and the piece of driftwood. Simply drape the cord around the wood in any fashion you would like, fix the piece of driftwood to the wall, and plug it in. You now have a neat sconce lamp. Tree stumps can be made into tables or even into a lazy susan. What about coasters? Just cut the piece down to the size you want or leave it as is and have fun with it!
Old Ironing Board
Believe it or not, there are many uses for an old ironing board. Instead of turning your head the next time you see one, think of using it as a snack table, a pop up desk or even use it as a plant stand. It would look cute in the garden if you treat it first (whether it is wood or metal) or even on the patio. Your plants will thank you!