The popularity of estate sales has been on the rise. Why? Not just to find unique items or to get a deal but for the desire to be "green" and recycle or reuse items to avoid being placed in landfills or discarded in the ocean. Upcycling is a way to reuse discarded objects or materials in such a way as to create a product of higher quality or value than the original. Luckily, while shopping estate sales you can find a multitude of objects to re-purpose and upcycle.  Here is a sampling of the most popular items we see at nearly every sale and some ideas for how to use them to make something new and beautiful!
Antique Teacups & Saucers Into "Tealights"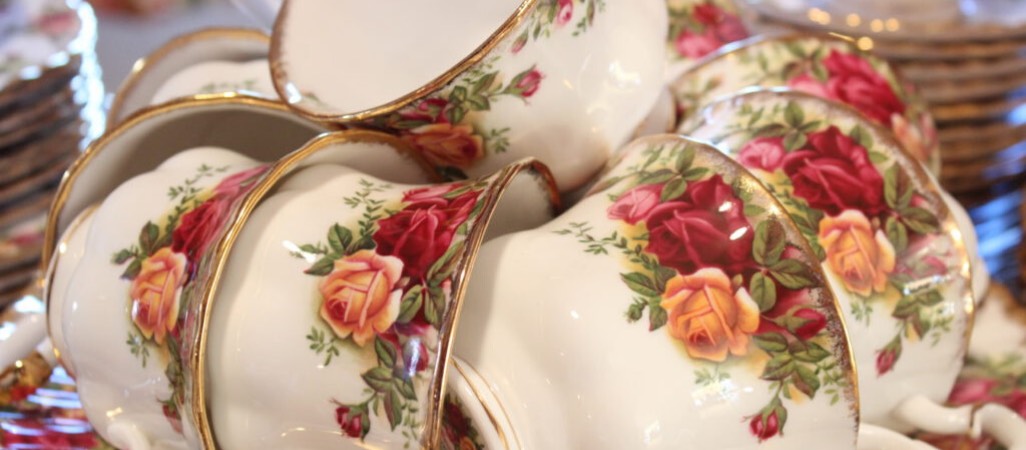 With the popularity of "granny chic" style on the rise, this is the perfect project. Take any teacup and saucer (they don't even have to match!) and glue the cup to the saucer with hot or gorilla glue. Next, take old (unscented) candles or beeswax, melt it down (you can even add drops of your favorite essential oils to customize the scent at this step), add the wick to the cup, pour the melted wax in and wait for it to set. Cut the wick to desired burning length and Voila! You have a wonderful gift ready for the tea-enthusiast, candle lover or appreciator of beauty in your life.
Mason Jars
These are an item whose recycling potential truly has no limits. Old mason jars can be repurposed in a multitude of ways: as thoughtful gifts with beverage or cookie ingredients packed inside, a note included with instructions on how to make whatever the contents are, and a bow around the lid. They can be used for storage of tall items like pens or paint brushes, vases for flowers, containers for bathroom items like cotton swabs and cotton balls, or even as storage for leftover soups as they work well in the fridge and freezer alike. It's almost jarring the amount of things you can do with these versatile vessels!
Records- LPs & 45s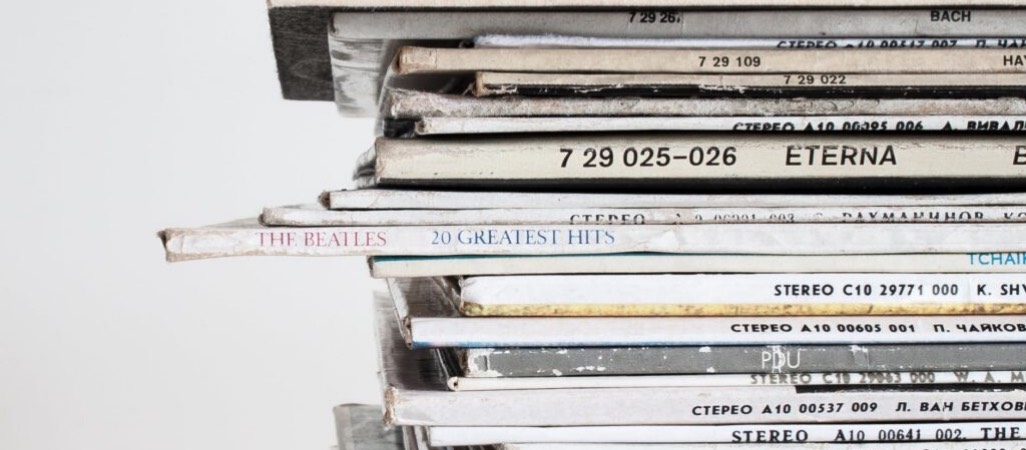 While we do find the occasional high value record and price it accordingly at our sales, we price the majority of the records we sell (think Glen Miller & Lawrence Welk in abundance) very affordably at $2 or $3 each. This makes them an ideal item for repurposing- and we bet you'd be surprised at the items you can make with old records! How about a decorative bowl for candy, fruit that has a peel or keys and loose change? Check out this video https://youtu.be/G-KVx5U5NRA for the how-to! Have you ever thought about wearing your records? With a few simple tools, records can be cut up and made into jewelry like necklaces, earrings and bracelets. A simple google search on "vinyl record crafts" yields thousands of ideas for projects, from home decor to furniture! Try a new "spin" on repurposing your records and you'll have a unique conversation piece to add to your home or an original gift idea for the vinyl enthusiast in your life.
Old Hardcover Books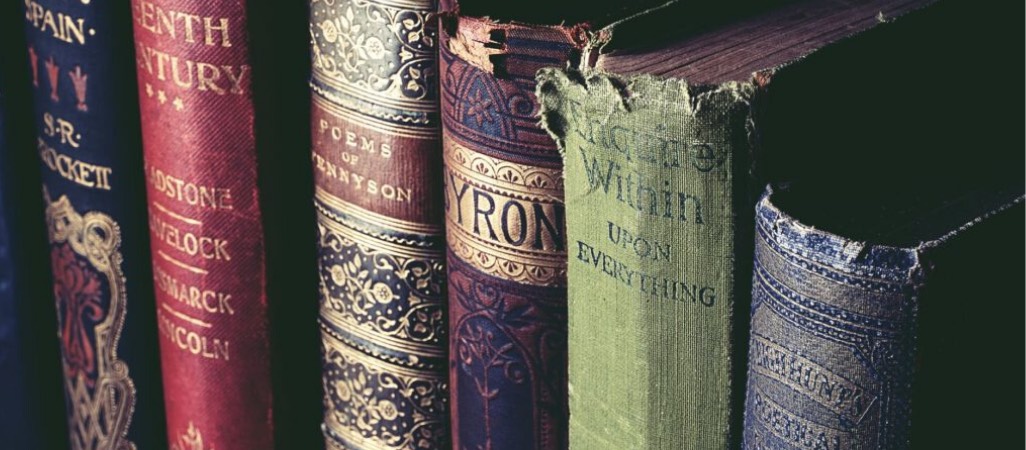 It is safe to say that we see books at nearly every single sale we do, and because they are so heavy and generally have a relatively low resale value we price them to sell and sell quick! The books at our sales are usually priced at around a dollar or two, and on discount days are even less! This makes them the ideal medium to upcycle with- and the ideas abound. Projects range from super easy bookmarks made from the book spines (with just a punched hole and ribbon added), to more involved flowers made from the pages of the books, to secret boxes made by cutting out the pages of the book and gluing them together- the cover of the book is the lid of the box! Books are another item where the upcycling possibilities are infinite- after doing a quick google search I saw side tables and lamps made from stacked books, jewelry that used books to create mini antique book pendant necklaces, book page garland and even a planter for succulents. Maybe the next time you're shopping an estate sale, think about picking up a few extra books for some great and easy DIY projects.
Baskets
Of course, when we say baskets we are not talking about high end like Longaberger or Peterboro, but more so the variety that a gift basket comes in, or perhaps a flower arrangement. They are the kind of baskets most homes have, and some homes have in abundance. While baskets are most certainly a wonderful and decorative storage item, have you ever thought about the ways you can get more out of your humble baskets? Sometimes a simple spray paint with a new color can give new life to a basket, or what about turning it upside down and making a lampshade out of it? Depending on the shape of the basket, you can glue a mirror to the bottom that matches the shape (oval or round, for instance) and hang it up on the wall! One of the most creative ways I found for upcycling a basket was making a jewelry organizer out of it! A great way to hang hoop or dangly earrings, and necklaces and rings can be added with just a few hooks. Hang it up on the wall and you have a pretty, functional and creative way to use a basket.
Tee Shirts
Whether they are representing a favorite band or sports team, tee shirts have a place in nearly every wardrobe, and eventually end up in our sales. We look them over to make sure we have pulled any that are designer or vintage and valuable, but after that we price them to move. Did you know that tee shirts from our estate sales are often priced even lower than thrift stores? And, if you buy them in bulk we will give you an even better deal! This makes them a great candidate for upcycling, but what kinds of projects can you do with tee shirts? Well, how about cutting up tee shirts of various coordinating colors and making a throw rug out of them? Or making a few stitches and cuts to create your own produce bags? Tee shirts can even be used to create headbands and hair ties- a great use for a shirt that may have a few holes. Of all the great ideas I found using tee shirts, my favorite is using strips of old tee shirts to braid a hanging plant holder- totally original!
Broken Candles & Crayons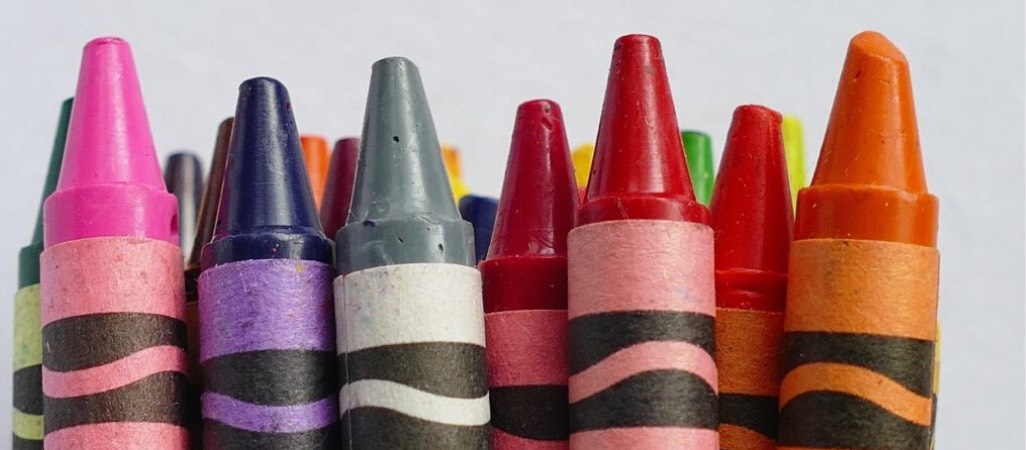 Hidden away in nearly every china cabinet or kitchen junk drawer we encounter are old candles- used tapers, votives or tealights. Sometimes these candles are broken or cracked, but that doesn't mean they are trash. Often times we find old boxes of crayons- put the two together and you have a great way to customize your homemade candle colors! Broken crayons may seem like they are useless, but those pieces can be arranged into shaped molds and melted, making cute multi colored crayons any child would love to draw with. A surprising and clever way to reuse crayons is to make lip gloss out of them- and you only need two ingredients- a crayon and coconut oil! Crayons also make a great crafting medium for kids- they can make glassine lanterns, drip melted wax over clear glass ornaments or even crayon Playdoh!
Silverware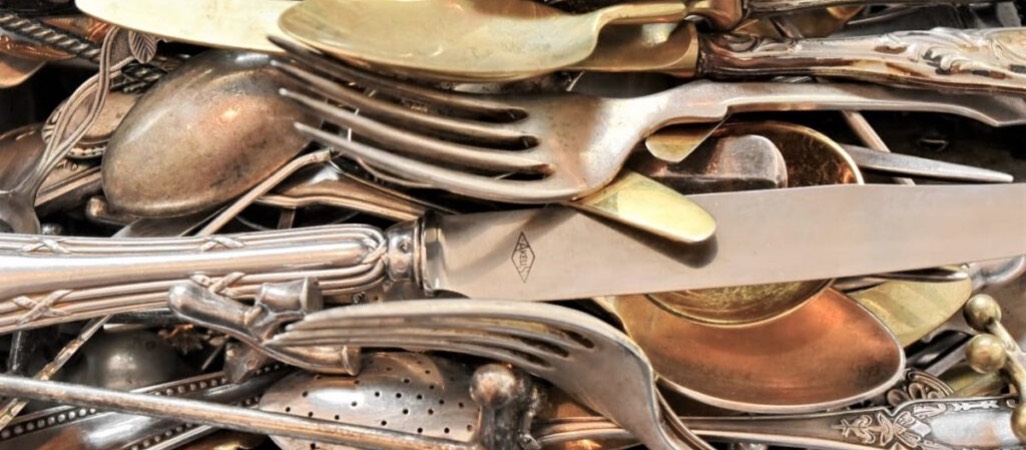 This ubiquitous estate sale item is cheap and super versatile as far as upcycling goes. We price our silverware (stainless only) at only 4 for $1- even cheaper than the dollar stores! Of course there are expensive versions of real sterling silver that cost much more, but the regular, everyday silverware that most people use is an estate sale staple for us. Although stapling isn't a part of any of these silverware upcycling projects, fun and easiness is! The easiest project being bent silverware hooks that look right at home in your kitchen hanging towels or kitchen utensils. All you do is heat the piece of silverware and bend it, then place them onto the wall held in place by a couple of small nails on either side. Old forks can be used as place card holders on your dining room table, giving a fun and whimsical vibe to your tablescape. They can also be bunched together to create a photo-holding display- just slide your favorite photos in between the tines of the forks and you have a quirky, unique way to show off your favorite memories. A fan favorite silverware project I came across is garden decor made from knives- the rounded shape of the blade makes perfect looking insect wings! If the silverware is stainless, you don't need to worry about it being exposed to the elements outside.
Now that we have given you some food for thought, we hope you see some common estate sale finds from a fresh, new upcycling perspective. You never know what the next sale may have in store and what treasures you might find to turn into even better treasures later. See you at our next sale!